 Gezi Park has become the symbol which people have rallied behind
to protest Prime Minister Tayyip Ergogan's government
, which many consider authoritarian. Protesters celebrated the first day of
Ramadan, the Muslim holy month of fasting
, by breaking bread together in defiance of the police. Iftar dinners were also held in a pedestrian street near Gezi Park and
hosted by the Revolutionary Muslims and Anti-Capitalist Muslims
, two leftist groups which sympathize with the protesters. Ramadan is a time for communities to unite and reflect on social issues, and the iftar dinners are a way for participants to come together. "I hope the state will understand what these people have been trying to say with the protests. It is a constitutional right to enter a public space and protest,"
said Ozge Dogu,
a 23-year-old university student.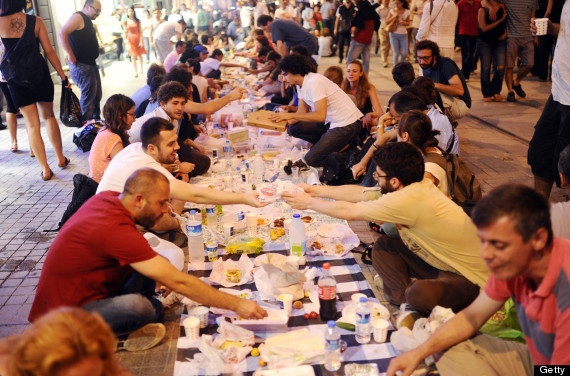 http://www.huffingtonpost.com/2013/07/10/turkish-protesters-break-fast-istiklal_n_3573994.html#slide=2679964